Arbi Kofta with Mint Yoghurt Dip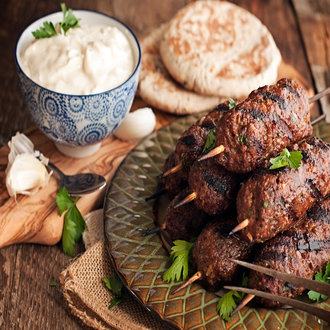 Arbi Kofta with Mint Yoghurt Dip
Chef

:

Recipe Servings

:

4

Restaurant

:
Sattviko, New Delhi

Recipe Cook Time

:

45 Minutes

..................................................................
Arbi Kofta is the perfect tea time snack for you to try out during the navratras. Prepared with kuttu ka aata and accompanied with the ever versatile mint-yogurt dip, these crisp bites will have everyone asking for more.
Ingredients
250 gm arbi/colocasia roots

3-4 Tbsp water chestnut flour, kuttu ka aata

1 green chili

1/2 inch ginger, finely chopped

1 tsp carom seeds

Rock salt, as required

2 or 3 tsp oil, for frying


For the dip:

Few sprigs of mint

100 gm curd

50 gm cucumber, finely chopped

Pomegranate, for garnishing

Method
Boil the arbi in a pressure cooker or in a pan till it becomes soft.

Peel them all and add the rest of the ingredients.

Mash well and mix everything uniformly.

While shaping the kofta, you can apply some oil on your palms as the mixture is sticky.

Shape into cylinders and pan fry them with some oil till golden brown.

Serve Arbi Kofta hot with mint yoghurt dip.


Mint Yoghurt Dip:

Hang yoghurt to drain excess water.

Mix chopped mint and cucumber to the yoghurt.

Add rock salt.