The Most Beautiful Underwater Restaurants in the World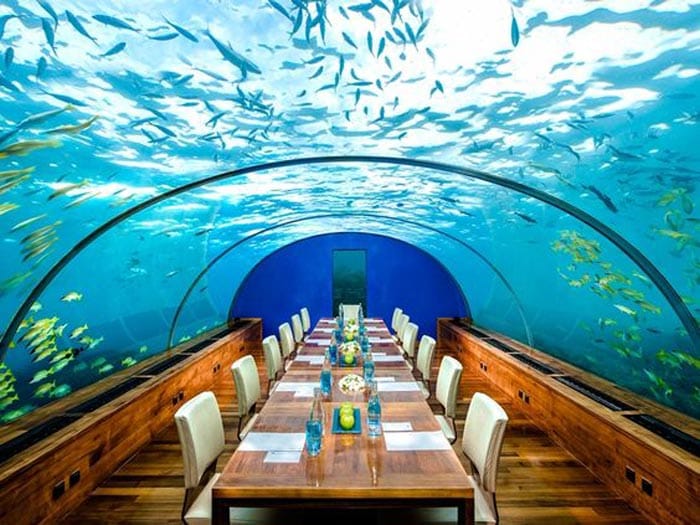 Ithaa Undersea Restaurant
This was the first all-glass undersea restaurant at Conrad Maldives Rangali Island hotel. The restaurant is located 16-feet below sea level with a 180-degree panoramic view of the water above you.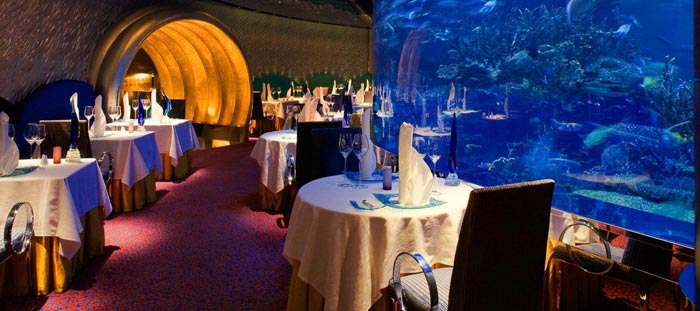 Al Mahara
In Arabic, Al Mahara is also known as the 'Oyster Shell'. The restaurant is surrounded by a stunning floor to ceiling aquarium inside that allows you to witness the colourful sea life while you enjoy a meal prepared by a team of award-wining chefs.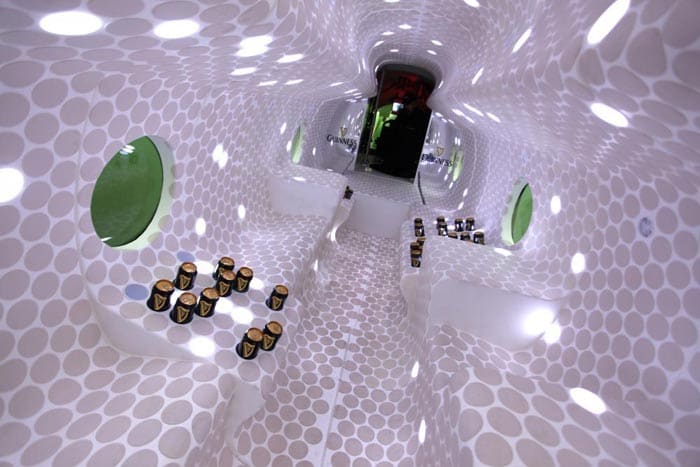 Guinness Deep Sea Bar
This submarine is the world's first deep sea bar located in the Baltic sea in the Stockholm Archipelago. It was created to celebrate their 250th anniversary. The interiors designed as per the fluid concept which reflects the Guinness brand statement 'Alive Inside'. It captures the feeling of being 'immersed in a dynamic, flowing experience'.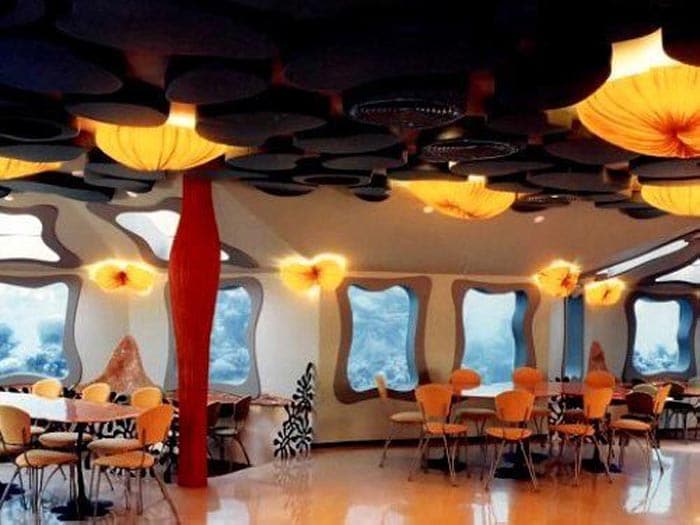 Red Sea Star, Eilat, Israel
This underwater restaurant is located at the coral reefs of Eilat. It has two sections, one above and the surface of the water. The one above is the Metro Bar with the view of the Gulf of Aqaba and below is the restaurant. Every table has two windows - one at its side, and one above. At night, the coral gardens around the restaurant are illuminated using lights that will not disturb the fragile eco-system.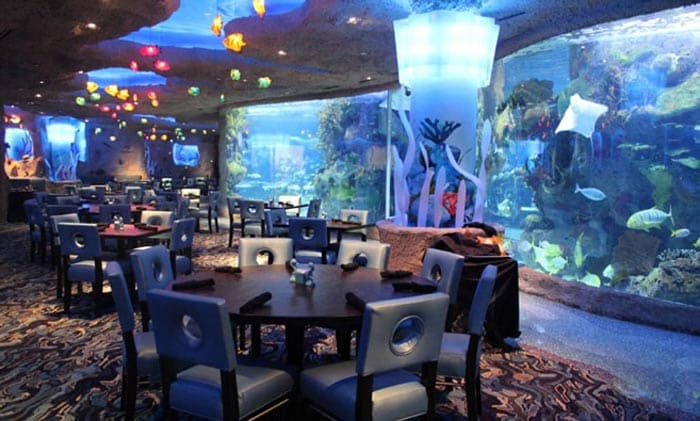 Aquarium Restaurant, Nashville
As the same suggests, the restaurant is surrounded by a 200,000-gallon aquarium with more than 100 species of colorful, tropical fish from the Caribbean Sea, Hawaii, South Pacific and the Indian Ocean.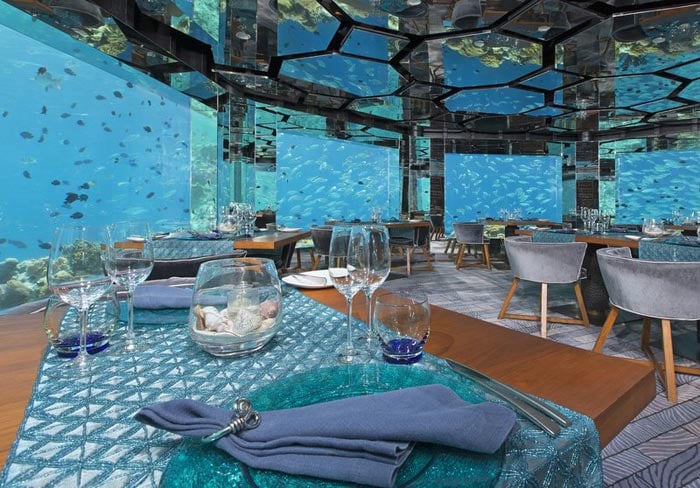 Anantara Kihavah Maldives Villas
One of the few underwater restaurants with the world's first underwater wine cellar. You can enjoy a lovely lunch or dinner with a 360 degree view of passing fish, turtles, and even sharks. Each table has a book of Maldivian reef fish to help you learn more about the various species.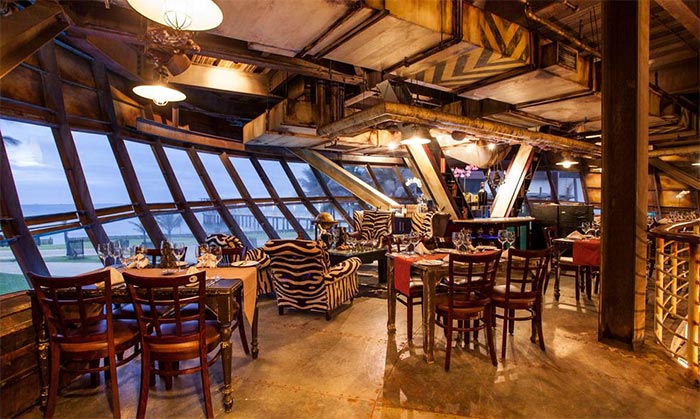 Cargo Hold Restaurant
This restaurant is built in a replica of South Africa's legendary ghost ship 'The Phantom' and creatively surrounded by the famous uShaka aquarium.
Subsix, Maldives
Subsix, at the PER AQUUM Niyama resort in the Maldives, is located six metres below the surface of the Indian Ocean.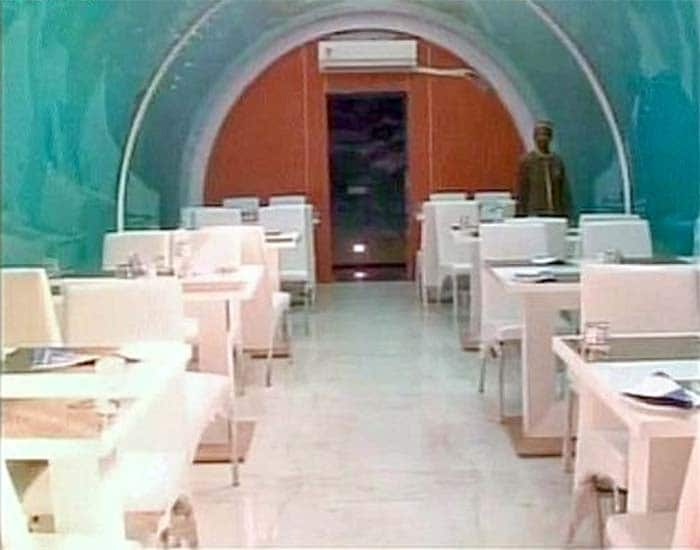 Real Poseidon
With the recent launch of Real Poseidon, India gets its first underwater restaurant. The restaurant is built 20 feet below ground level in Ahmedabad.