Patatas Bravas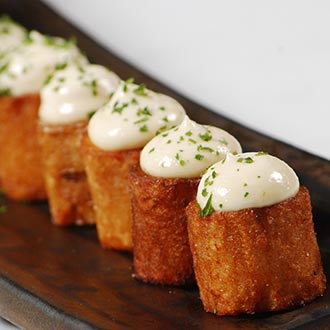 Patatas Bravas
Chef

:

Recipe Servings

:

4

Restaurant

:
JW Marriott Hotel

Recipe Cook Time

:

1 Hour

..................................................................
Crisp fried potato chunks filled with spicy tomato salsa and home-made aioli are divinely delicious. Spanish tapas are small potions that can create a light supper or serve as great appetizers.
Ingredients
5 potato

1 litre sunflower oil

5 fresh tomatoes

1 fresh red chili

1 egg

3 pieces garlic

3 clove

1 tsp lemon juice

5 Tbsp olive oil

Salt to taste

Black pepper powder to taste

2 sprigs fresh parsley
Method
Cut the potatoes into exact halves. Scoop at the center with small scooper.

In a tray put the potatoes & cover with sunflower oil. Cook in the oven at 150 degree for 45 minutes.


For spicy tomato sauce:

In a pan, heat olive oil, add crushed garlic cloves & saute.

Add chopped fresh red chili, saute & add chopped tomatoes. Cook for about an 1 hour, over slow flame.

Season the sauce & blend.


For garlic aioli:

In a bowl break whole egg, add chopped garlic, lemon juice & salt, mix well & start whipping it.

Add olive oil slowly to form an emulsion; whip till mayonnaise / aioli is firm.

Deep fry the potatoes, take out on a paper towel & sprinkle with salt.

Fill the center with spicy tomato sauce & top with garlic aioli.

Garnish with fresh chopped parsley.
Key Ingredients:
egg
, sunflower,
garlic
,
lemon juice
,
olive oil
,
salt
,
black pepper
,
parsley
,
potatoes
,
tomato
,
red chilli
,
vegetable oil