10 Best Biryani Recipes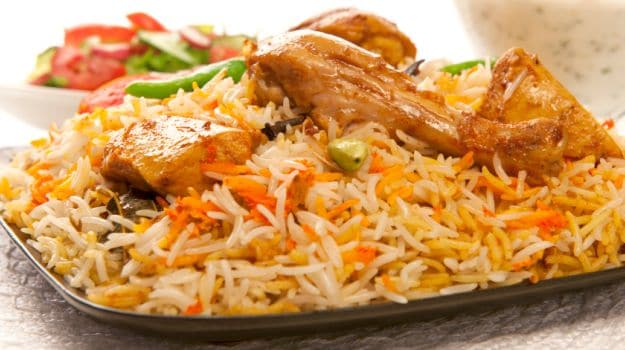 "If there is such a thing as foods of the God, it is undoubtedly the biryani. The magic of biryani lies in the way rice is transformed into something ambrosial." - Pratibha Karan

Biryani, an evergreen classic, really needs no introduction. It's aromatic, it's heavenly and one of the most loved delicacies of the country. It is believed that Mughals were the first to introduce Biryani in North India whereas South India was exposed to its brilliance through the Arabs. Biryani flourished in some of the notable Muslim centres throughout the country - including Lucknow, old Delhi and Hyderabad, to name a few - after which it was gradually embraced by all.

The style of cooking Biryani in North India differed from the Southern states. Since a large part of North India was inhabited by vegetarian communities like Brahmins and Marwaris, North Indians successfully experimented with it to arrive at the vegetarian versions. Vegetable Biryani, colloquially called 'Tehri' is a classic Sunday meal in most North Indian homes.
Rice is widely consumed in the Southern part of the country owing to which one can find a miscellany of mouthwatering versions. South India boasts of a wide variety of Biryanisover any other part of the country. Hyderabad itself is said to cook up to 40 distinct versions. The fiery chettinad cuisine of Tamil Nadu exhibits magnificent Biryanis. Some of the most celebrated Biryanis of South include - Hyderabadi Biryani, Coorgi Mutton Biryani,Bhatkali Biryani and Mangalorean Fish Biryani.

The Western part of the country bristles with a fantastic collection of Biryanis, one of the famous being the Bombay Biryani - a hearty combination of spices, meat and rice, studded with kewra. The Khojas and Boris Muslim communities kept alive the tradition of cooking Biryanis. When in Western India, one must try the Sindhi Biryani, Gujarati Biryaniand Memoni Biryani. Aurangabad is also a centre where one can get a taste of MughlaiBiryani in Maharashtrian style.

In East, Biryani is mostly cooked in Bengal. They combine rice with meat, fish and prawns and cook it with heart-warming spices and ingredients. To talk of North-East India, one of the most notable Biryanis is the Assamese Kampuri Biryani.

Cooking the Perfect Biryani

The perfect Biryani calls for meticulously measured ingredients and practiced technique.

Style/Technique

Unlike Pulao, Biryani involves cooking rice and meat separately and finally cooking them together by forming layers of each in a vessel. One of the most famous ways of cookingBiryani is the dum method. It involves sealing the vessel thoroughly and keeping the lid closed to trap in the aroma. The Biryani is then cooked over slow fire/dum.

Traditionally, Biryanis can be classified under two categories - Pakki, wherein cooked meat is coupled with half-cooked rice and further cooked - and Katchi which involves raw mutton pieces, marinated in yogurt and spices, cooked together with uncooked rice.

Tip: It takes much longer to cook a Katchi Biryani. Opt for meat that is soft and is made tender through marinating. Raw papaya is a great tenderizer and is often used for marinating meat.

Rice

Choosing the perfect variety of rice is of the utmost importance. You can either go for the traditional Basmati or some of the local gems like Zeera Samba, Golden Sela, Kaima,Jeerakashala and Kala Bhaat. South India often cooks up its Biryanis using some of the local varieties of rice that render distinct taste, texture and aroma to the dish.

Tip: Wash and soak rice properly before cooking. Adding a few drops of oil while cooking rice will keep the grains from sticking together. A dash of lime juice or vinegar will give it an exotic whiteness and firmer texture.

Meat and Veggies

Your vegetables should be garden fresh and cooked separately while meat should be of the finest quality. Fish, prawns and vegetables take lesser time to cook over big chicken chunks or meat pieces. The cooking time therefore depends a lot on the ingredients used. When cooking with meat/chicken, ensure using small, soft tender portions to facilitate quicker cooking. Meat/chicken should be marinated well before cooking with rice.
Ingredients and Spices

A wide range of aromatic spices come together to create a beautiful pot of Biryani. The use of spices differs from region to region. Coconut Milk, Cream, Yogurt, Buttermilk are often used in preparing some of the most sensational Biryanis while the spices include the regular affair. Kerala is famous for using Star Anise in its rice preparations. Khada Masala- ungrounded spices/whole spices - is widely used to render a distinct flavour to the preparation.
For the Scintillating Aroma

A perfect Biryani can never be bereft of the sensational aroma. A quintessential Biryani is always studded with a scented element which takes the aromatic quotient to yet another level. Jasmine, Rose, Kewra, Saffron and Screw-pine are widely used for this purpose.
Biryani
is a complete meal in itself, apt to suit all occasions; whether a hearty meal on a lazy Sunday afternoon or a grand, scrumptious indulgence at the dinner table - there are varieties available to please one and all. Just in case you are in a mood to cook some yourself this festive season, our handpicked recipes from across the country will be enough to inspire the cook within you.
1.
Hyderabadi Biryani
Recipe by Chef Hussain
Straight from the streets of Hyderabad, get the authentic flavours simmering in your kitchen.
(Watch recipe video)
4.
Chicken Reshmi Biryani
Recipe by Chef Niru Gupta
Explore the burst of flavours enrobed in a mix of chicken and rice.
5.
Makhni Paneer Biryani
Recipe by Chef Vicky Ratnani
Tender paneer pieces cooked to perfection in a hearty mix of rice and local spices. Doused in a creamy texture, this special treat will please one and all.
6.
Calicut Chicken Biryani
Recipe by Chef Pramod, Taj Malabar
From the beautiful city of Calicut, comes this authentic chicken
Biryani
.
(Watch recipe video)
7.
Scheherazade Biryani
Recipe by Team Pakistan
Surprise all by serving this authentic Iranian
Biryani
at your dinner table. Succulent fish pieces are cooked together in spices and a generous helping of nuts.
(Watch recipe video)
8.
Murgh Ki Kachchi Biryani
Recipe by Chef Aditya Bal
This one is a must try for all the meat lovers. Raw mutton pieces are marinated and cooked with rice dum style - simply lip-smacking!
(Watch recipe video)
9.
Chicken Biryani With Coconut Milk
Recipe by Chef Divya Burman
This one is a heartwarming combination of spices and condiments simmering with chicken pieces and rice. An added dose of coconut milk makes this one a creamy, aromatic treat.
10.
Machchli Biryani
Recipe by Chef Niru Gupta
Beautiful fish pieces layered with rice and truckloads of flavours - this one will steal you all the praises!