Can Farzi Cafe CP Recreate the Magic?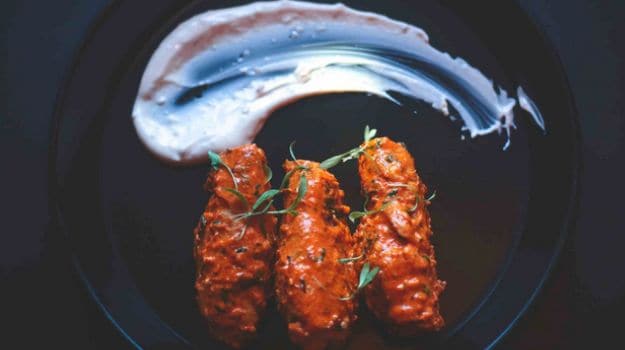 The last time I went to Farzi Café Gurgaonto review it, I fell in love with the cocktails. In fact, I was so besotted that I did not remember much of the meal besides a melt-in-the-mouth Goat Cheese Stuffed Tangri Chicken and the fantastic Duck Samosas. This was not a reflection on the kitchen, it was merely a compliment to the exceptional mixologist.

Farzi Café CP turned those tables around. Whenever the first offshoot of a successful restaurant opens, one wonders if it will be able to recreate the magic, whether the food and the vibe will follow it here. One meal at Farzi Café CP and you will not wonder anymore. The man leading the kitchen, Chef Saiyam Kapoor, is an unassuming person. It is only when he starts describing his dishes that you see his eyes light up and realise that it is not just another plate for him, he takes his food very seriously. And it shows.

The menu has a wonderfully pocket-friendly 'Nano Plate' section with things like Karela Calamari (Rs.115) and Black Pepper and Garlic Prawns (Rs.150). We started off with the Mac n Cheese Pakora Bites (Rs.295) that kids will love. But it really was the next dish that set the tone for the evening. The Smoked Patthar ke Kebabs (Rs.425) were served with a drop of wasabi chutney and topped with walnuts. Simple, aesthetic and absolutely mind-blowing. Water buffalo is not the tenderest meat, yet these slivers melt in the mouth. We followed that with Goat Cheese and Walnut Tikkis (Rs.295) that were reminiscent of Dahi ke Kebab yet did not stand out. The chorizo specked mini-idlis (Paddu Yaki-Rs.395)were a hit though, served with chutney and gunpowder that added a zing. An unlikely 'bitings' order alongside your drinks, it surprisingly went great with them. If you're in the vicinity and drop in just for a drink, these and the Patthar ke Kebabs are what we recommend you order on the side.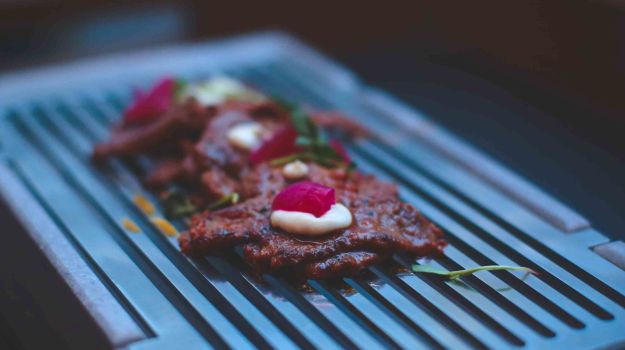 Smoked Patthar ke Kebabs

The Grainy Mustard Fish Tikkas (Rs.395) were in a league of their own. Served on a grill with coal keeping the tikkas warm, they were what a perfect Malai Tikka should be, and more. The Fish Tikka in Amritsar sets your standards too high and it is quite a task to impress thereafter. However, it does suffer the drawback of being too spicy. The version at Farzi, however, is just perfect. With no chilies to hide behind and just the perfect kick from the mustard, it is the flaky fish that demands your attention, only accentuated by the creamy marinade. I'd love some crunchy onion on the side but maybe those are myPunjabi roots talking.

If the starters wowed, they were just the precursor of things to follow. The 'hoppers' section of the menu is hereby declared as my favourite here. Bheja Fry (Rs.395) is cooked to perfection such that it is not chewy in the least, tossed with masalas and served atop a cumin appam with some chutneys on the side. Even if you're not a very experimentative diner, try this one. You won't regret it. My favourite, on the other hand, remains the Sri Lankan Malaya Prawn Hopper (Rs.375). So incredibly juicy, spiced just right and the iddiappam soaking in the gravy to make it one delicious bite. The one dish you must eat here. Must.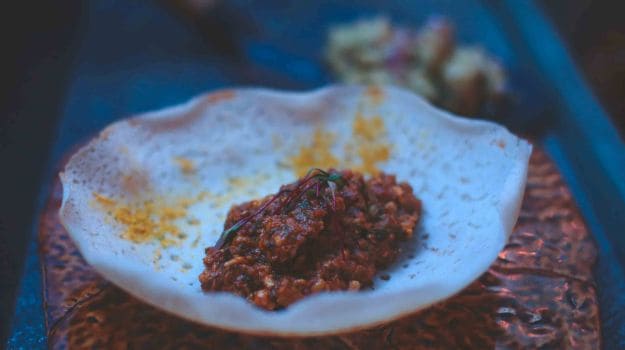 Bheja Fry

Chef Saiyam's magic completely overshadowed the drinks. I'd tried Farzi Idea before (served in a lightbulb, yes you read that right) and loved it but this time it tasted a little medicinal. However, I'm still in awe of their Banta machine that helps them package a cocktail inside banta bottles. Nostalgia at its best. Santa Banta is now my go-to drink at Farzi Café. For the concept of it, as well as the flavours.

Stuffed beyond belief, we begged Chef Saiyam to choose one dessert to end our meal on a high. He instead quizzed us whether we liked drama or textures. One option, he proffered, was the Milky Way (Rs.475), which sounded like art on a plate (they actually recreate a galaxy). The other option was a Chocolate Dirt Pile (Rs.445) and as you know, chocolate always wins. The dirt pile was simple yet ingenious. Chocolate soil with crunchy pistachos, chocolate truffle, edible flowers and more is served along with a hot chocolate sauce that you pour into a well on the pile and mix it up with the gardening tools provided. We recommend you mix a little bit and leave some dirt dry so that you may appreciate the difference in textures. For chocoholics and food lovers in general, this is the perfect way to end your meal.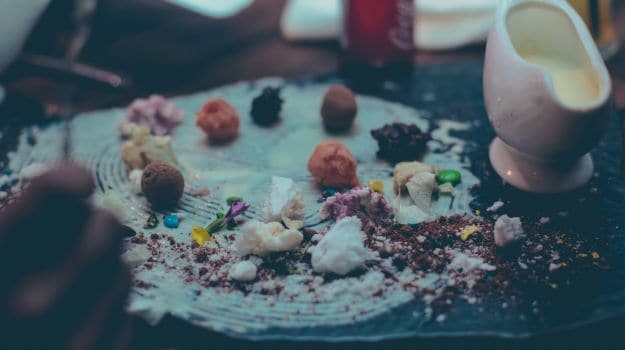 Milky Way

Whatever Zorawar Kalra touches seems to turn into gold. His Gurgaon outlet, he confessed when we met him last, had the highest revenue of any standalone restaurant in NCR last year. As did Masala Library in Mumbai. Farzi Café CP is proof that it's not luck that is behind his success. Understanding the diner's pulse, hiring and training the best staff (he mentioned that he pays higher than the norm to get staff who can converse with the diners one on one and create a rapport) and upping your own game with each step you take forward, these could very well be his mantras that keep the flag flying high.

CP finally has a destination restaurant, one you make plans to go and visit, not just drop into because you're in the vicinity. We suggest you go try it out for yourself, if you can manage to get a table, that is.

Address: Near United Coffee House, E Block,Connaught Place, New Delhi
Meal for 2: Rs.1500
Must Haves: Patthar ke Kebab, Malaya Prawns