Murgh Khyber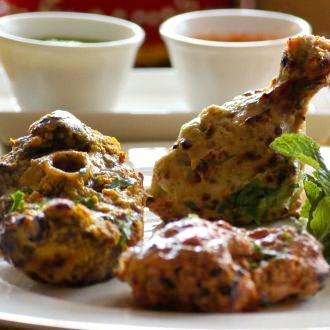 Murgh Khyber
Chef

:

Restaurant

:
Jaypee Siddharth, New Delhi

Recipe Cook Time

:

30 Minutes + Marination time (6hrs)

..................................................................
This recipe is all about getting the marination right. A mix of chillies, masalas, ginger-garlic paste and hung curd infused in tender chicken tikkas that are roasted golden on the grill.
Ingredients
1 kg chicken thigh

400 gm hung curd

50 gm Kashmiri chilli powder

10 gm garam masalapowder

5 gm kasoori methipowder

1 1/2 tsp salt

80 gm mustard oil

50 gm ginger-garlic paste

30 gm brown onion paste

3 gm black cardamom paste

3 gm green cardamom paste

10 gm tomato paste

2 gm red chilli flakes
Method
Marinate chicken in ginger garlic paste, Kashmiri red chilli powder, lemon juice & salt. Keep aside for 4 hours.

Rub hung curd and mix all spices and other ingredients. Make a smooth marination.

Add chicken to the marinate and mix well, drizzle some oil on top, cover and keep in refrigerator for 6 hours.

As and when required, take out from fridge and roast the chicken tikka for 10-12 minutes.

Sprinkle with chaat masala, butter and green coriander. Serve hot.
Key Ingredients:
chicken
,
hung curd
,
green cardamom
,
black cardamom
,
salt
, kasoori methi,
onion
,
tomato
,
ginger
,
garlic
,
mustard oil
,
garam masala
, red chillie
s