Chicken Breast Recipes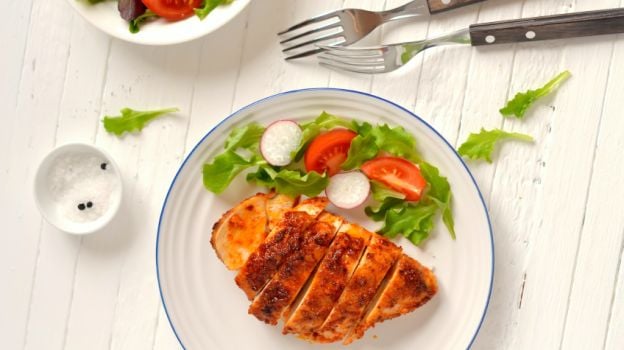 "As much as I love relishing juicy, tender, perfectly cooked
chicken breast
, I dread cooking some on my own. Cooking chicken breast is like my kryptonite, the more I love it, the more I resist cooking it because I can never get it right!" Such is the predicament of my chicken loving friend; doesn't the same resonate in the minds of most of us? Cooking chicken breast may come across as an effortless activity, but in reality can be extremely difficult to get right. One of the commonest mistakes that most people make while cooking chicken breast are overcooking it and not marinating it properly. In such a case, the key is to let the chicken breasts soak in as much flavour as possible and cook them for not more than 15 minutes.
There are many ways you can cook chicken breasts: Stuff it and bake it,
grill
it, pan sear, sauté, stir fry, steam or use it in a rich curry. Once you master the art of cooking it, there is no end to the delectable dishes you can prepare. Join us in our quest to get chicken breasts cooked right with simple tricks.
1. Marinating and tenderizing the chicken breasts are really important. They ensure that the pieces are loaded with juices, oils and flavours, and are moist and juicy.
2. Ingredients with distinct pungency work wonders with chicken breast. You can team the pieces with
mustard
,
basil
,
pesto
, teriyaki and so on.
3.
Salt
, dried herbs,
pepper
,
sugar
,
vinegar
,
lemon juice
,
yogurt
,
cream
and
spices
are other agents that can aid in marinating your chicken.
4. Avoid overcooking the chicken breasts. Chicken breasts, when marinated properly, cook quickly. Whether baking or pan searing, they will be ready in 20 minutes max!
5. Refrigerate the chicken in case you plan to keep it marinating for over an hour.
6. Avoid marinating chicken breasts for a long time. Keep a balance between oil and acidic element. Over-marinating may make the flesh turn squishy and mushy.
7. Make sure you choose the right pieces for your dish; larger, thicker pieces will take more time to cook. Do not forget to make gashes in the meat to facilitate seeping in of flavours and oil.
8. Try glazing the chicken breasts while cooking, it renders instant flavour.
9. If need be, keep chicken breasts in between plastic sheet or cooking sheet and pound it gently to flatten it a bit. This will ensure quick cooking.
10. Last but not the least, if you are pan frying or baking whole chicken breasts, once it is done, do not rush to cut the meat right after as it will result in flavourful juices to seep out of the meat. Let it rest for few minutes so as the meat soaks in all the flavours and juices. Slice, plate and serve!