Fish Kebabs with Sauce and Brown Rice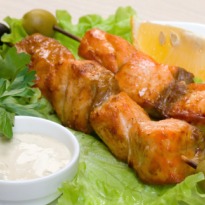 Fish Kebabs with Sauce and Brown Rice
Chef

:

Recipe Cook Time

:

30 Minutes + Time for Marination

..................................................................
Be it a special meal for family or a party, Kebabs always do the trick. Here's for you a flavorsome fish kebabs recipe. Grilled fish served with a garlicky, tangy sauce and brown rice.
Ingredients
1/2 kg fish fillet (any white chunky fish)

2 Tbsp lime juice

Salt and pepper - according to taste

1/2 cup skimmed milk curd low fat natural yogurt

1 Tbsp ginger and garlic paste

1 Tbsp garam masala powder

1 Tbsp kashmiri chili powder


For the Sauce:

3 Tbsp olive oil

1 Tbsp cumin seeds

1 Tbsp coriander seeds

1 Tbsp garlic, chopped

3 onions, chopped

1/2 Tbsp chili powder

1 Tbsp pumpkin or sunflower seeds

1 Tbsp roasted peanuts

3 cups tomato puree

2 Tbsp mint leaves, chopped

Salt according to taste
Method
Cut the fish fillet in into 5cm cubes. Toss in the lime juice, salt and pepper.

Whip or beat the curd until smooth. Combine the rest of the ingredients and pour over the fish then leave to marinate for two hours.

Thread the fish pieces onto skewers, and grill until done.

Roast the cumin, coriander, pumpkin or sunflower seeds and peanuts for about 2 minutes. Allow to cool and then grind the mixture into a powder.

Heat the oil on a medium heat and fry till the onions till they are brown.

Put the heat on a low flame and add the chili powder followed by the tomato, mint leaves and salt with half cup of water and simmer for 5 minutes.


To Serve:

On each plate, arrange 3 tablespoon of cooked brown rice, half cup of fresh vegetable salad and 1/4 of the kebabs. Pour hot sauce on kebabs and serve.

Key Ingredients:
Fish fillet
,
lemon juice
,
salt
,
black pepper
,
yogurt
,
ginger
,
garlic
,
garam masala
,
kashmiri mirch
,
olive oil
,
sunflower seeds
,
peanuts
,
tomato puree
,
mint leaves
,
cumin seeds
,
coriander seeds
,
onion
,
red chilli
, p