( Maxican ) Chicken Quesadillas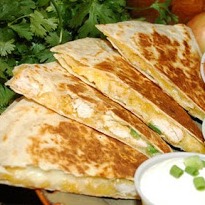 Chicken Quesadillas
Chef

:

Recipe Cook Time

:

30 Minutes

..................................................................
A great snack for a get together. You can make a vegetarian version by with mushrooms instead of chicken. Quesadillas are tortillas that originated in Mexico.
Ingredients
1 packet tortillas (golden crust makes great ones)

2 cups cheddar cheese grated

100 gm chicken boiled and shredded (you can substitute with 1 cup mushrooms, sliced fine)

1 bowl hung yogurt

2 tsp coriander chopped

2 tsp spring onion, chopped fine

2 green chillies finely cut or 2-3 jalapeno peppers cut

1 tsp garlic, chopped fine

Sour cream(hung yogurt whisked with lemon juice)


For taco powder (mix together):

1 tsp cumin powder

1/2 tsp salt

A pinch of chilli powder

A pinch of onion salt

A pinch of oregano

Method
Place all ingredients together.

Boil chicken and shred. Sprinkle the taco powder over the chicken.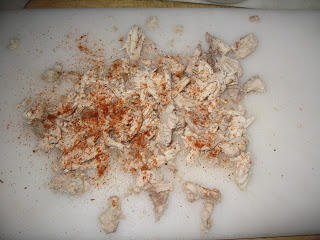 Whisk the coriander, spring onion and chillies into the hung yogurt. Season with salt.
Open a flour tortilla and layer with the yogurt mix. Add a little cheeses and top with chicken or mushrooms cooked in garlic and sprinkled with taco powder.
Sprinkle more cheese.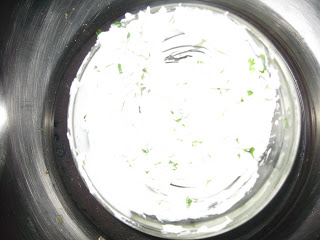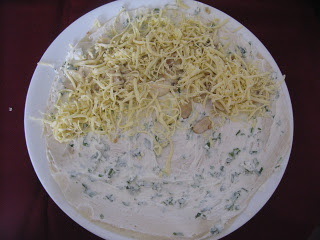 Heat very little oil and cook till light brown. Flip.
Take the tortilla out and cut into triangles. Serve with sour cream, salsa, hot sauce or guacamole.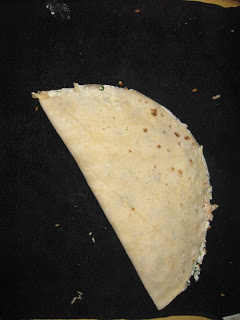 Key Ingredients:
Chicken
,
tortillas
,
cheddar cheese
,
hung curd
,
coriander leaves
,
spring onion
,
green chillies
,
jalapeno
,
garlic
,
cream
,
lemon juice
,
cumin seeds
,
salt
,
oregano